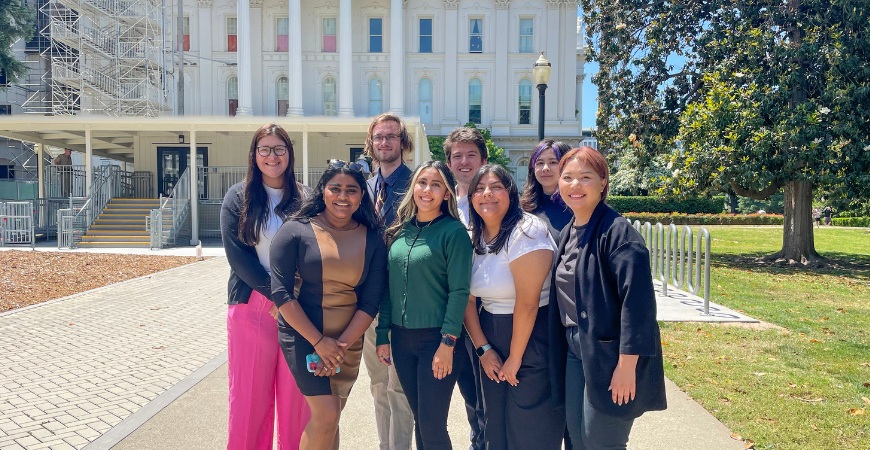 After taking part in the UC Merced Center for Analytic Political Engagement 's inaugural legislative boot camp, students say they are better prepared to take on the first internships of their careers.
The week-long session in Sacramento was led by former Assemblymember Adam Gray and political science Professor Nate Monroe and gave a cohort of nine students a look behind the curtain at how policymaking happens at the state Capitol.
"We realized that the gap was that they were getting this very high-level understanding of the way that the lawmakers operated, but they didn't yet have the sense of the practical skills that went into supporting the process as interns and then staff," said Monroe. "We realized there is really no internship training that does that."
Monroe and Gray put together a pathway for students to bridge the gap between college courses and careers in legislative politics. To be part of the boot camp, students must first take a semester-long class that simulates a legislative session. The following semester, each is paired with a faculty member as a research assistant - delving into political data and analytics. If accepted, they begin the Center for Analytic Political Engagement (CAPE) Bootcamp in Sacramento during the summer, before being matched with internships at lawmakers' offices, with lobbyist groups or other positions.
"A true hands-on experience of what it looks like to work in and around the Capitol," said Austyn Smith Jones, CAPE managing director. "This gives them a real-life opportunity to see what that would look like day-to-day. And it also gives them some tools and skills that they can use in those experiences."
The week in Sacramento was jam-packed with trainings, visits, meetings with legislators and lobbyists, and tours of legislative offices and institutes. The cohort was even introduced on the Assembly floor by Central Valley Assemblymember Esmeralda Soria.
For Haley James, the boot camp changed her career plans.
"I was pretty set on becoming a high school government teacher, but this showed me so many things I didn't know or realize were an opportunity," she said. "It even led to me having an internship at a district office in Bakersfield."
Having transferred to UC Merced from a larger university, Jacqueline Ocegueda said this political science program is unlike anything that's being offered at other institutions.
"It's a lot more tight-knit and there are a lot more opportunities for you to grow as a person while also being in a competitive environment," she said.
Ananya Veerapaneni thought her interest in healthcare limited her career options in Sacramento to become a lobbyist, but meeting legislators who are also physicians opened up her mind to striving to be a lawmaker.
"I was really excited and really empowered to see women in healthcare also be in politics and really take that into their hands in shaping the community," she said.
Veerapaneni has an upcoming internship with Dr. Akilah Weber, a state assembly member from La Mesa.
Beyond elevating students as they embark on their careers, Gray and Monroe hope the more UC Merced alumni there are involved in state policy, the more representation there will be looking out for the interests of the Central Valley.
"If we can take some of our best and brightest young people who attend UC Merced and we can provide them with the skills to be successful as interns, then, more importantly, be successful as staff members, maybe some of them can go on to serve in the state legislature," said Gray. "As we do that, we are going to have a lot of UC Merced alumni in the state Capitol looking out after our region and bringing our perspective."