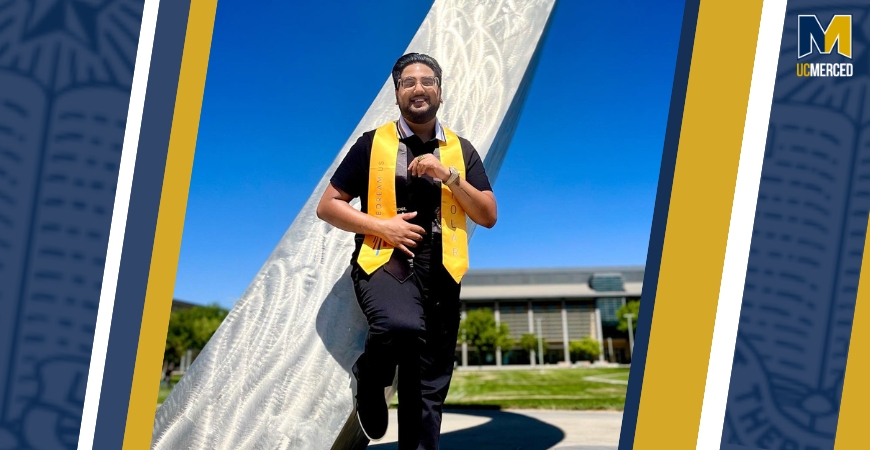 The University of California Board of Regents has appointed University of California, Merced graduate student Josiah Beharry to be the 2024-25 student Regent.
Beharry is the 50th student Regent, a position established in 1975. He will serve as the student Regent-designate for the coming year, able to participate in all deliberations, and will have voting privileges when his one-year term as a Regent begins in July 2024. Beharry's appointment carries additional significance, as he is the first student from the UC Merced campus to serve as student Regent.
Beharry is a doctoral student in Interdisciplinary Humanities at UC Merced, where he also earned his bachelor's degree in Critical Race and Ethnic Studies with a minor in Writing, graduating magna cum laude.
Born in Trinidad, Beharry immigrated to the U.S. as a child and as a first-generation student, he brings a unique perspective to the role. Drawing from his own experiences, he passionately supports students from underrepresented communities, acting as a peer leader and mentor and fostering a sense of belonging. Beharry has contributed to his community in multiple ways. At the UC Merced Bright Student Success Center, he helped develop the Gateway Scholars program, designed to equip high school students in Merced with the necessary tools for college readiness. His advocacy extends to organizations such as the Central Valley Pride Center, where he serves as an advocate. He is a fellow with UCLA Dream Summer and the Asian Pacific American Labor Alliance.
"I humbly embrace the privilege bestowed upon me, as a first-generation DACA student, to illuminate the path for future generations by placing the student voice and experience at the heart of the Board of Regents' discussions," said Beharry. "With unwavering dedication, I will champion the aspirations and concerns of students, seeking transformative solutions to nurture every individual within the UC community. This opportunity to give back to UC fills me with profound gratitude, and I eagerly anticipate embarking on the journey of empowerment and progress."
He added, "I am committed to illuminating the myriad voices within the student body, arming myself with knowledge about the multifaceted challenges faced by diverse groups across UC campuses. I pledge to amplify the perspectives of the marginalized, underrepresented, and unheard, ensuring their narratives shape the discourse and drive meaningful change. By cultivating an inclusive environment, I aim to forge a collective path toward equity, justice, and empowerment for all. It is with great resolve that I undertake this responsibility, driven by the conviction that together, we can forge a brighter future for every student within the UC community."
Panels appointed by the UC campus student body presidents and the UC Student Association and UC Graduate and Professional Council reviewed the applications for the student Regent position and interviewed semifinalists. A special committee of the Regents interviewed the finalists and nominated Beharry.
You may find more information about the Board of Regents' policy on appointing a student regent here .