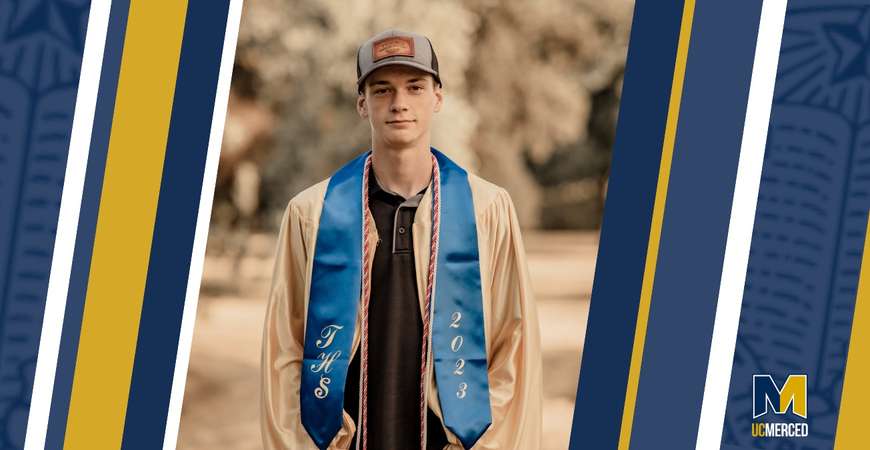 Incoming first-year student Hayden Elliott will hit the UC Merced campus this fall with quite a bit of college already under his belt.
A 2023 graduate of Turlock High School, Elliott has earned associate's degrees from attending both Modesto Junior College and Merced College in their dual enrollment programs.
"I graduated from Modesto Junior College in 2022 with an AAT (associate's degree for transfer) in administration of criminal justice," Elliott said. He also earned an associate's of science degree in social behavioral science last year, and added an AAT in psychology this year.
At the same time, he has been active with the Explorer program at the Turlock Police Department, where he envisions taking his career after graduation from UC Merced. And if that didn't keep him busy enough, he also participated in the Navy Junior Reserve Officer Training Corps at Turlock High.
"That allowed me to be a leader of 90 cadets as the commanding officer and host different events for our unit," he said.
Elliott said UC Merced was a great fit for his educational goals for several reasons, including the ability to transfer his credits from the junior colleges he attended and the recent growth at the campus.
"I remember going to UC Merced while in the STEM (science, technology, engineering and mathematics) program for Turlock Junior High and seeing the construction of the new parts of the campus and the already great facilities had me interested," he said. "I also enjoyed its location near Yosemite National Park as my dad and I both love hiking and camping."
As for the summer before starting as a full-time college student, Elliott isn't exactly taking it easy. Just after providing answers for this profile, he was leaving for Ohio to compete in a national air rifle competition.
"Our air rifle team won state championship in the last two years, which allowed us to compete in national competitions," he said. This year we also qualified to attend the Junior Olympics."
Once school starts in the fall, Elliott said, he's planning to study psychology and its possibilities within the field of criminal justice and law enforcement. He will commute from his Turlock home to campus to save money, and it will allow him to continue to work in the police department, where he has been involved since 2019.
"With the path that I have worked for, I intend to earn a BA in psychology before I turn 21 so that I may enter the Police Academy and become a patrol officer," he said. "After that, I plan on exploring the department for different officer team opportunities, like SWAT or K9."
Turlock Police Captain Steve Rodrigues said Hayden has a bright future ahead.
"He's dedicated," Rodrigues said. "He's quiet, but he keeps his head down and he does work extremely hard … he has a strong work ethic and the advisors within the Explorer program really enjoy having him part of the program."