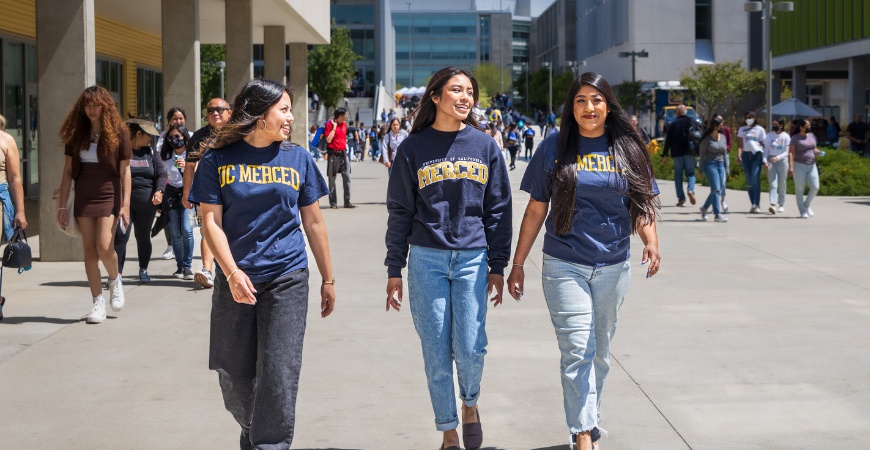 UC Merced is preparing to welcome back thousands of students to campus for the start of the university's 19th academic year.
From Aug. 17-20, family and friends will join incoming Bobcats as they arrive on campus throughout move-in weekend. As they settle into the residence halls, student and staff volunteers will be ready to help and answer questions. Almost 4,200 undergraduate students will reside in on-campus housing this academic year.
On Aug. 22, students will take part in one of UC Merced's oldest traditions — Scholar's Bridge Crossing. The morning begins with students gathered near The Pavilion. After campus leadership offers remarks welcoming students, administrators and staff will lead them up Scholars Lane, across Scholars Bridge and through the Beginnings sculpture to commemorate the start of their journeys at UC Merced. On Commencement day, students will be led back through the sculpture in their caps and gowns to signify their transitions from students to alumni.
"Move-in and welcome week events make this a high-energy time on campus to interact with our amazing students as they explore all the opportunities at UC Merced," said Vice Chancellor for Student Affairs Charles Nies.
Students and visitors will notice several new art installations added to campus in recent months including the "UCM" letters near The Pavilion, the "Big M" located in Academic Quad, and The Labyrinth between Little Lake and Pavilion Lawn.
After undergoing renovations, this fall, the Yablokoff-Wallace Dining Commons (YWDC) will reopen with a new look and new culinary options for lunch, dinner and late-night dining. This year, both The Pavilion and YWDC will transition to reusable dishware in an effort to reduce waste, cut costs and enhance the dining experience.
"This is an exciting time to be at UC Merced as we see the continued growth of the campus with increased opportunities for students," said Nies. "We will be expanding access to student success initiatives, support for student engagement, and enhancements to student leadership development, social justice advocacy and student wellbeing."
This fall, UC Merced is also welcoming the inaugural class of the San Joaquin Valley PRIME+ BS to MD pathway. This medical training opportunity will allow students to will complete their bachelor's of science degrees at UC Merced over four years, then complete their doctor of medicine degrees at UC Merced and UCSF-Fresno over four years. The first cohort of 15 students begins classes this fall.