January 28, 2017 - 5:00pm
Download presentations.
UC Merced will host its 4th Annual Symposium on the Child and Family from 9am to 2:30pm January 28th, 2017 on UC Merced Campus in the Student Services Building (SSB 160 & 170).  Download Campus map at ucmerced_campusmap_rev.pdf.  Offering a day of talks by researchers on the theme of "Strong Families: Fostering Healthy Parent-Child Relationships and Child Development."     Download event agenda at ucm_child_development_4th_annual_symposium_schedule.pdf  Download pdf of flier 4th_annual_symposium_on_the_child_and_family_flier.pdf
The symposium is designed to be of interest to individuals who work with young children or have an interest in learning more about early child development.  It will consist of a series of talks by distinguished researchers and small-group discussions between researchers and attendees.
Certificates will be available for those seeking professional development hours.  Food and beverages will be provided.  Tours of the Early Childhood Education Center (ECEC) and research labs will also be offered.  Space is limited for the symposium.  A $20 registration fee covers a coffee break and lunch.  Registeration is required.  Attendees can register online through January 20th and/or by emailing Dr. Jeffrey Gilger.
Planned research talks include:
The symposium is organized by a committee that is chaired by Professor Jeff Gilger and includes Walle, Main, fellow professors Rose Scott and Heather Bortfeld, ECEC Director Danielle Waite, and psychology graduate students Megan Smith and Carmen Kho.  Support for this year's event comes from the ECEC, the UC Merced Alliance for Child and Family Health and Development, First 5 Merced County, Lakeshore Learning and the Carlston Cunningham Endowment.  For more information and/or questions contact Jeff Gilger or Danielle Waite by clicking on their names above.
Download April 2016 Presentations of the 3rd Annual Symposium Child and Family : The Developing Child in a Developing World here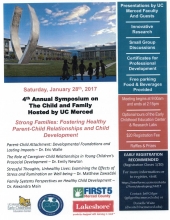 Location
The University of California Merced Campus in Student Services Building
Contact Information
Founder & Director The UCM Alliance for Child and Family Health and Development